Join us for the FocusMaine Intern Experience!
Are you interning in Maine this summer? If so, and you like having fun, meeting new people, and want to learn more about living and working in Maine, we have an opportunity for you.
This summer, interns from a variety of Maine employers will meet up for social events and explore Maine through recreational adventures like hiking and kayaking. Interns also will get tips from young professionals on getting started in good careers, learn about entrepreneurship and startups, hear from industry leaders about their experiences living and working in Maine, and more.
All events are free.
Click the button below to opt in to receive texts & emails this summer. Never miss an invite or event!
Ask if your employer is participating and how you can be involved in the FocusMaine Intern Experience!

Interested in having it all when it comes to quality of life AND quality of career? Click below!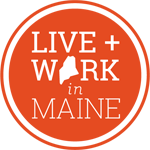 Want to learn about the Opportunity Maine Tax Credit, which reimburses student loan payments for college graduates who live and work in Maine? Click below!